A weekly podcast from some of the Real Rednecks of Redneck Country and various guests from week to week - www.theredneckcountry.com - Just a bunch of Outdoors Folk sittin' round a campfire tellin' stories, cuttin' up and have a blast! Hoping to draw you in and be right there with us as we share our fun from afield - whether it's huntin' deer, turkey, ducks or even fishin'!! Tune in to listen to the weekly antics and hopefully learn a little to use while you're afield!
Episodes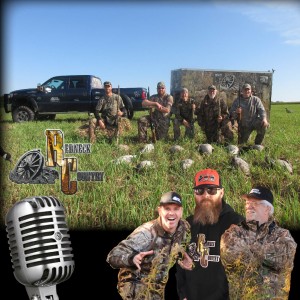 Sunday Sep 26, 2021
Sunday Sep 26, 2021
Redneck Country Podcast – Season 2 - Episode 39 – Todd IS Right!!! – FOLKS - THIS IS A FUN ONE!!  At least we (well, Todd) had a blast recording it!!  Early Goose Season is still consuming the patriarch's truck fuel and the rest of our minds!  However, we're now done experimenting with decoy layouts, settle on one and just tryin' to drop the hammer on those giant Sky Pandas!  We mess up…of course!  But listen in to hear how we still managed to get some wary, uncooperative birds on the ground, the spread, the position and all w/ Bill's brother – Real Redneck Jay Thom.  Then we share about one heck of a beautiful gun club north of Toronto as Todd and Bill (and Bill's wife Candace) meet up with old friends to crush some clay!  ….oh, and did we mention – TODD IS RIGHT!!  - listen to the end…. YOU'LL SEE!!  😉
Join Real Rednecks Todd Millard, Bill Thom and Don Millard around the campfire as they share stories afield that you can relate to and hopefully assist in improving your time and opportunities afield.
Don't be shy in contacting us if you want to join us and share some funny stories, successes or even "learning opportunities" from your time afield! If you do, email podcast@theredneckcountry.com or message us on Facebook or even text Real Redneck Todd Millard @ 226-919-4092!
Podcast Website - no app required - https://redneckcountry.podbean.com/
Apple iTunes - https://podcasts.apple.com/ca/podcast/redneck-countrys-podcast/id1491855371
Spotify - https://open.spotify.com/show/5XcYNPRYX020zgZRZLfCYV
iHeartRadio - https://www.iheart.com/podcast/269-redneck-countrys-podcast-55295656
Google Play - https://play.google.com/music/m/I24rrsus2isv2n56kwurxmxagom?t=Redneck_Country_s_Podcast
Castbox - https://castbox.fm/channel/id2522339?country=ca
Deezer - https://www.deezer.com/en/show/753572
Blubrry - https://blubrry.com/redneckcountry/
Digital Podcast - http://www.digitalpodcast.com/feeds/96146-redneck-country-s-podcast
#buildcommunity
#itswhatwedo